You want to renew your house but don't know where to start? Have you ever thought about making your furniture for your home from unique DIY ideas? Below I will share with you 6 DIY ideas to help you design impressive tables for every living space.
What is DIY?
DIY stands for "Do it yourself." In other words, DIY is to create a product yourself, building and repairing itself without having to rely on a professional. Today, DIY is gradually gaining popularity in the interior sector. You can completely fix, create everyday interior products in your family such as tables, chairs, cabinets, shelves,…
DIY Ideas And Some Impressive Tables
Table with a geometric pattern

Cubes, colors always bring youthful and stylish beauty. A table with motifs is geometric blocks that will bring newness to your common space. What you need are an old desk, color paste paper, and some glue. You can choose custom colors to decorate the table. With four colors of stickers: gold, black, blue, red and white, you get a pastel-style table. Cut the sheets of paper into many equally sized triangles, then use glue to complete the table. It will be a unique product, impressing in your home.
Table from trunk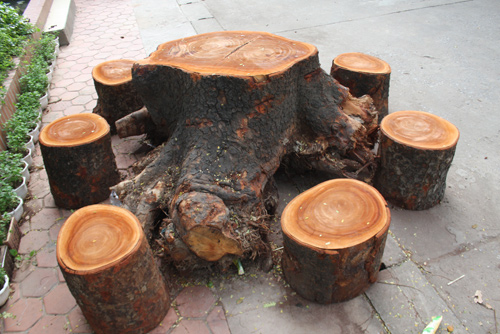 Sometimes, simple, rustic designs bring different beauty. A tea table made from the truck, why not? You can use the log with a saw (Chainsaw ) or buy a piece of wood from the trunk, but it will be more interesting if you design a table by yourself. It will be gorgeous if you decorate it in your garden.
Tables from many blocks of wood

This table is a rather particular design for those who are skillful and patient. Instead of using a large wooden board, we would have to pair the table from many small pieces of wood. You should be skilled in positioning the pieces of wood so that the table surface is balanced, avoid roughness or many gaps are omitted, if their sizes are uneven, you should use circular saws to make equal pieces of wood. After processing, please smooth the surface with a grinding machine, add an extra layer of oil or decorative motifs to your liking. This table is not only a home decor table but also a unique work of art that you can proudly show off to your friends.
Simple dining table

It would be great to be with the family to have dinner with the table made by yourself. What you need is some pieces of wood, a board, screws, sandpaper, wood clamps, and table legs. First, arrange the pieces of wood to shape; it would be easier if you used woodworking clamps to hold them firmly, then attach them with screws. Once you have a table, please use sandpaper to remove sharp corners or rough areas. And finally, carefully insert the table leg into the real plane. So you have a lovely table for your family.
Coffee table from a pallet wood

Pallet wood is a widely used material in the interior field; you can thoroughly use pallet wood to make yourself a lovely coffee table. What you need is an arbitrary size pallet wood, a chainsaw, screw, and a few small glue jars. First, use a ruler to measure the size of the pallet, avoiding the imbalance between the sides of the table. After that, you use four long, solid wooden bars to create a sturdy set of table legs. Use screws in the machining process to ensure a solid structure for your table. After finishing, you should use sandpaper to smooth the table surface; even you can paint colors to make your products more eye-catching.
Rickshaw table

It will be fancy if you "turn" your tea table into a small rickshaw. Some of the tools you need are wheels, wood planks, paint, screws, drills , glue, circular saw… First, carefully measure to cut pieces of wood with the correct size. Then use dedicated glue and small screws to combine them into an empty rectangular box in the middle. This box is also the surface of the table and makes sure it is secure. The next important step you need to take, which is you put the wheels into the lower part of the table to get the desired rickshaw. You should use screwdrivers, large screws and a drill to solidify the wheels with the plane, avoiding the wheel being slipped off the table when there is a substantial impact. So you have a small rickshaw table for yourself. You can decorate a basket of dried flowers or a nice little set of cups for the table to impress.
Let's start working. You will surprise everyone with your ability.